Bloody Spade is a magical, young adult urban fantasy that gave me such strong anime vibes! Dazzling, character-driven, and endearing, I had such a lovely time reading this book. If you need a book packed full of queer characters, magical girl transformation scenes, and a snarky, closed-off catboy, you have to pick this one up.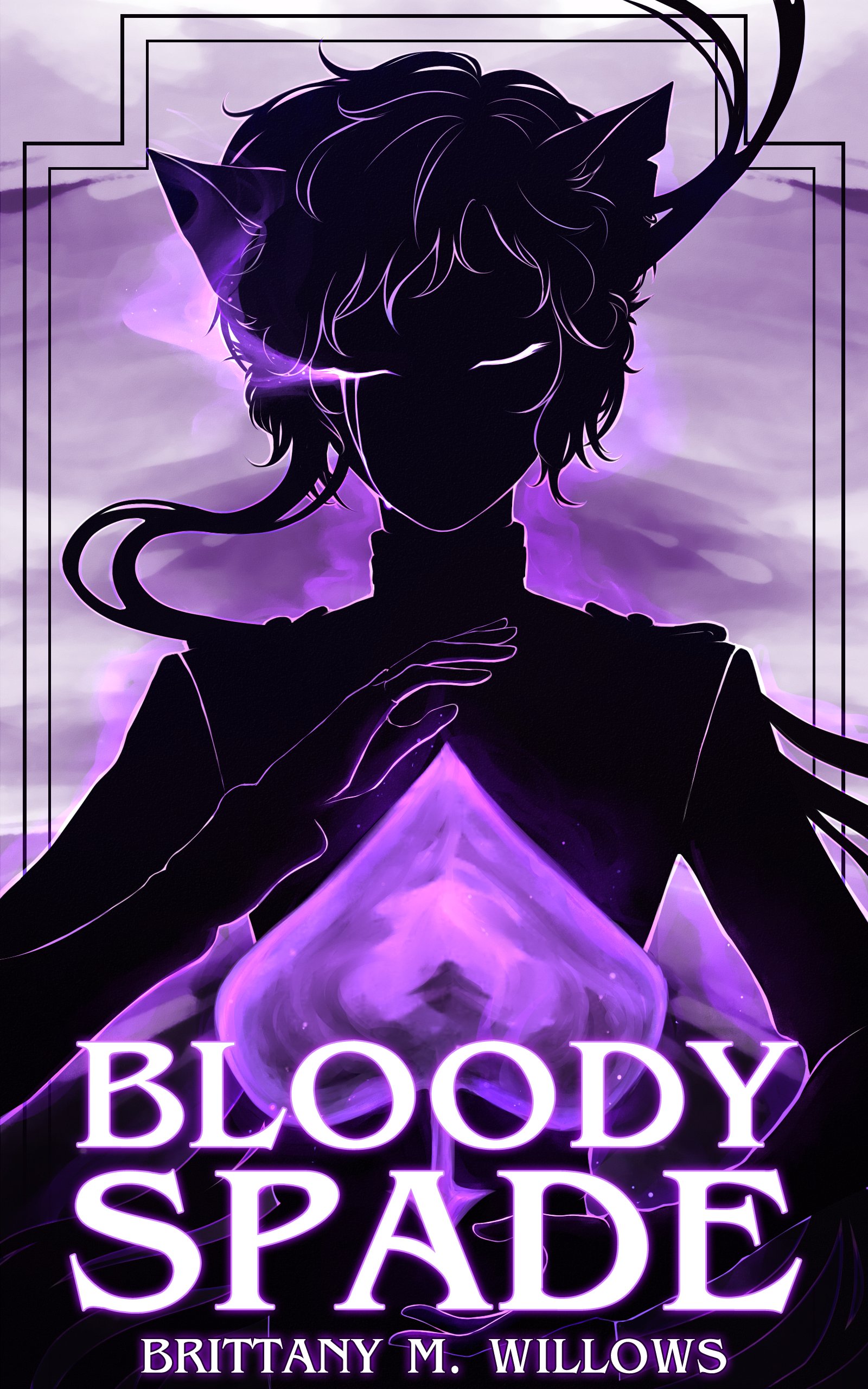 A girl full of heart
A thief touched by darkness
A boy with a fiery temper
An unwitting servant of evil

The era of magic was once thought to be a myth, but after the Reemergence ushered forces both dark and light into the mundane world, it has since become a harsh reality. Now those affected by this strange power—a specialized group of Empowered called Jokers, known collectively as Cardplay—must protect their world from the darkness that threatens to consume it, all the while fighting for equality in a society clinging to normalcy.

But the Reemergence was only the beginning.

When another influx occurs on the seventh anniversary of that fateful event, an unfortunate encounter at ground zero lands Iori Ryone, a teenage boy in possession of a corrupt and legendary magic, in the care of recent Joker graduate Ellen Amelia Jane. From him, she learns the Reemergence may not have been the inevitable natural disaster it first seemed.

Someone is trying to tear down the barrier that separates the magical realms from the mundane. The question is, can Cardplay stop them before it's too late?
No one believed in magic – until seven years ago when the Reemergence happened. Many people developed strange powers, and the world had to learn how to cope with this drastic change. A group of Empowered known as Cardplay protect the world from dark magic while desperately fighting for equality.
Iori Ryone is an elusive thief and teenage boy who possesses strange corrupt magic. He's managed to avoid Cardplay so far. When an influx of magic happens on the seventh anniversary of the Reemergence he was discovered while investigating. Now in the care of a kindhearted recent graduate known as Ellen, he's going to have to learn how to control his powers. Especially as a dark and mysterious group with links to the degradation of the magical barrier loom ever closer.
The worldbuilding in this book was so entertaining, vivid, and fantastical. The way anime elements were incorporated was masterful; if you love anime you need to check this book out. The city itself had a grittier vibe to it which juxtaposed brilliantly with the dazzling magical elements. The magical-girl-type transformation scenes were so fun to read. I'm a big fan of books that inspect how the sudden introduction of magic would disrupt the world. The way most magical people had to have their powers suppressed, and could only keep them if they were useful? It was depressingly realistic (in a good way!).
The characters were delightful; if you love character-driven books, this one is for you! The two main characters had such strong chemistry and characterisation. I especially adored Iori, the snarky, damaged catboy of my heart. Reading about him coming to understand, process, and move forward from his trauma? Unparalleled. I also loved Ellen! She's such a heartwarming and understanding character – always dedicated to doing the right thing even if it's difficult. The side characters were also excellently crafted; everyone felt so alive and recognisable (even the one's I wanted to throttle!). The cast is also wonderfully queer: Iori is pansexual, Ellen is grey-ace, and there are also aromantic/bisexual and demiromantic/demisexual main supporting characters!
Overall, this was a fantastic anime-inspired, young adult fantasy with a cast of characters you can't help but fall in love with. Pick this one up if you need something action-packed, brilliantly diverse, and dazzling!
CW (from author): Coarse language, Blood and violence, some gore, Moments of graphic violence/torture, On-page character death, Body horror, Harassment/bullying, Vomiting, Poisoning, Amnesia, Grief/bereavement, Anxiety, PTSD, panic attacks, Trauma related to kidnapping/physical abuse, Parent death (discussed, glimpsed in flashbacks), Car accident (discussed, glimpsed in flashbacks), One instance of a forced kiss (not intended to be romantic or sexual)
(Thanks to the author for providing me with an advanced copy in exchange for an honest review)
Brittany M. Willows is a bisexual/asexual author and digital artist living in rural Ontario, Canada. Inspired initially by video games and the stories they told, she began building her own fictional universes and has no plans of stopping any time soon. When she's not writing about post-apocalyptic lands, wild magic, or people gallivanting through the stars, she can be found hunched over a tablet drawing the very same things.

To keep up with the latest news regarding both current and future stories, and to find out more about Brittany or to delve deeper into the worlds she has created, check out the links below! She can also be contacted directly via these platforms.

Twitter: twitter.com/BMWillows
Instagram: instagram.com/brittanymwillows/
Blog: brittanymwillows.wordpress.com
Facebook: facebook.com/BrittanyMWillows
Bloody Spade is out tomorrow, so there's never been a better time to grab a copy!
If you want to remember to check out this book you should Add to Goodreads or Storygraph!
You can order the book from major retail sites such as Amazon or Waterstones!
As always I'd recommend checking out your local indie bookshop!