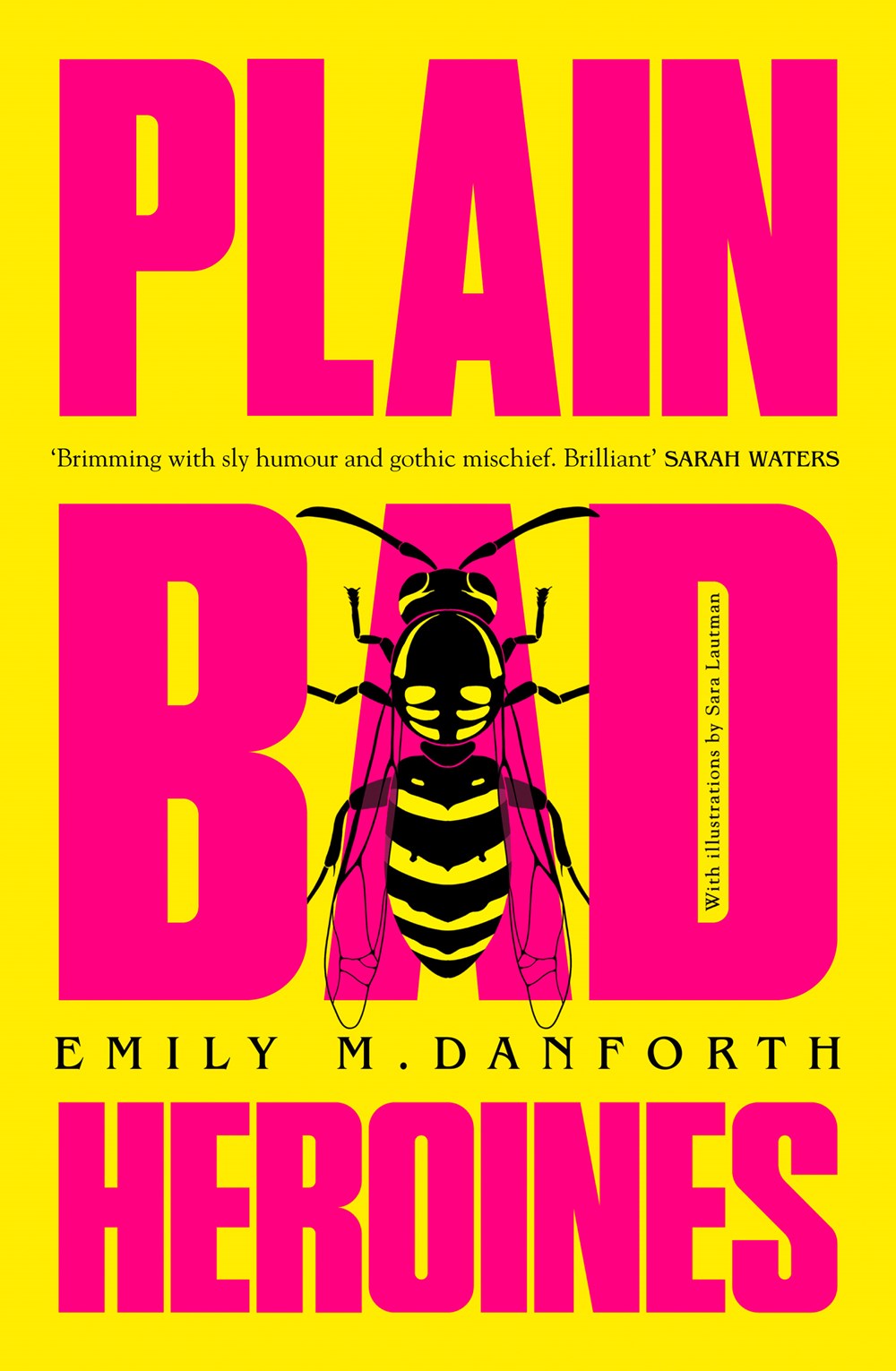 Extraordinarily queer and bursting with style and quirky strangeness, Plain Bad Heroines is a sapphic book like no other.

In 1902, The Brookhants School for Girls has a series of strange deaths starting with Flo and Clara, two students obsessed with each other and a writer named Mary MacLane. They regularly meet in a nearby apple orchard until the pair stumble into a nest of yellow jackets and are killed by the swarm. As Mary MacLane's book makes its way around the school, so does death and misfortune, until the school is forced to shut its gates forever. In the present, Merritt Emmons has written a book about the queer, feminist history of the Brookhants which is being turned into a movie. Harper Harper, the hottest lesbian star of Hollywood is the producer. She also plays Flo opposite B-list actress and child star Audrey Wells. The three women find themselves entangled in the gothic atmosphere of the school, unable to tell the movie from reality.

Plain Bad Heroines is a fantastically unique book with a stylised writing style that features a quirky, omniscient narrator. The slow-paced, sprawling narrative takes place over 600 pages and is entrenched with a gorgeous gothic atmosphere. One of the book's highlights is how it demonstrates sapphic relationships throughout history in all of their messy glory. However, the pacing occasionally drags, which impacts how compelling the story is. Also, if you're looking to understand the strange occurrences, the ending isn't particularly satisfying. This is a book that won't work for everyone, but if you love slow-paced reads, a gothic atmosphere, celebrity drama, and weird narrative structures, it's worth a read.
Thanks to HarperCollins UK and Netgalley for providing me with an advanced copy in exchange for an honest review.
emily m. danforth's debut (Young Adult) novel, The Miseducation Of Cameron Post (2012), has been translated into seven languages. It was a finalist for the American Library Association's Morris Debut Award and won the 2012 Montana Book Award. The Miseducation of Cameron Post was adapted into a Sundance award winning feature film directed by Desiree Akhavan.

emily's second novel, and first for adults, Plain Bad Heroines (2020), was named a best book of the year by The Washington Post, O Magazine, Vulture.com, Book Riot.com, and Buzzfeed.com. It was also named one of the Top Ten LGBTQIA books of the year by the American Library Association.

emily has an MFA in Fiction from the University of Montana and a Ph.D in English-Creative Writing from the University of Nebraska-Lincoln. She lives in Rhode Island with her wife Erica, her mother Sylvia, and two very spoiled dogs, Kevin and Sally O'Malley.

emily was born and raised in Miles City, Montana, a town best known for its Bucking Horse Sale – which was once listed in the Guinness Book of World Records for hosting the most intoxicated people, per capita, of any US event. Her favorite 1980's slasher movie is April Fool's Day and no, she doesn't want to hear why you think she's wrong about that choice.
If you want to remember to check out this book you should Add to Goodreads!
You can order the book from major retail sites such as Waterstones & Blackwells!
I'd recommend checking out your local indie bookshop! You can also get it from QueerLit!