What We Devour is a dark, young adult fantasy filled with demons, magic that demands sacrifice, complicated relationships, grey characters, and 'eat the rich' energy. Although it had a bit of a slow start, I completely fell in love with this book.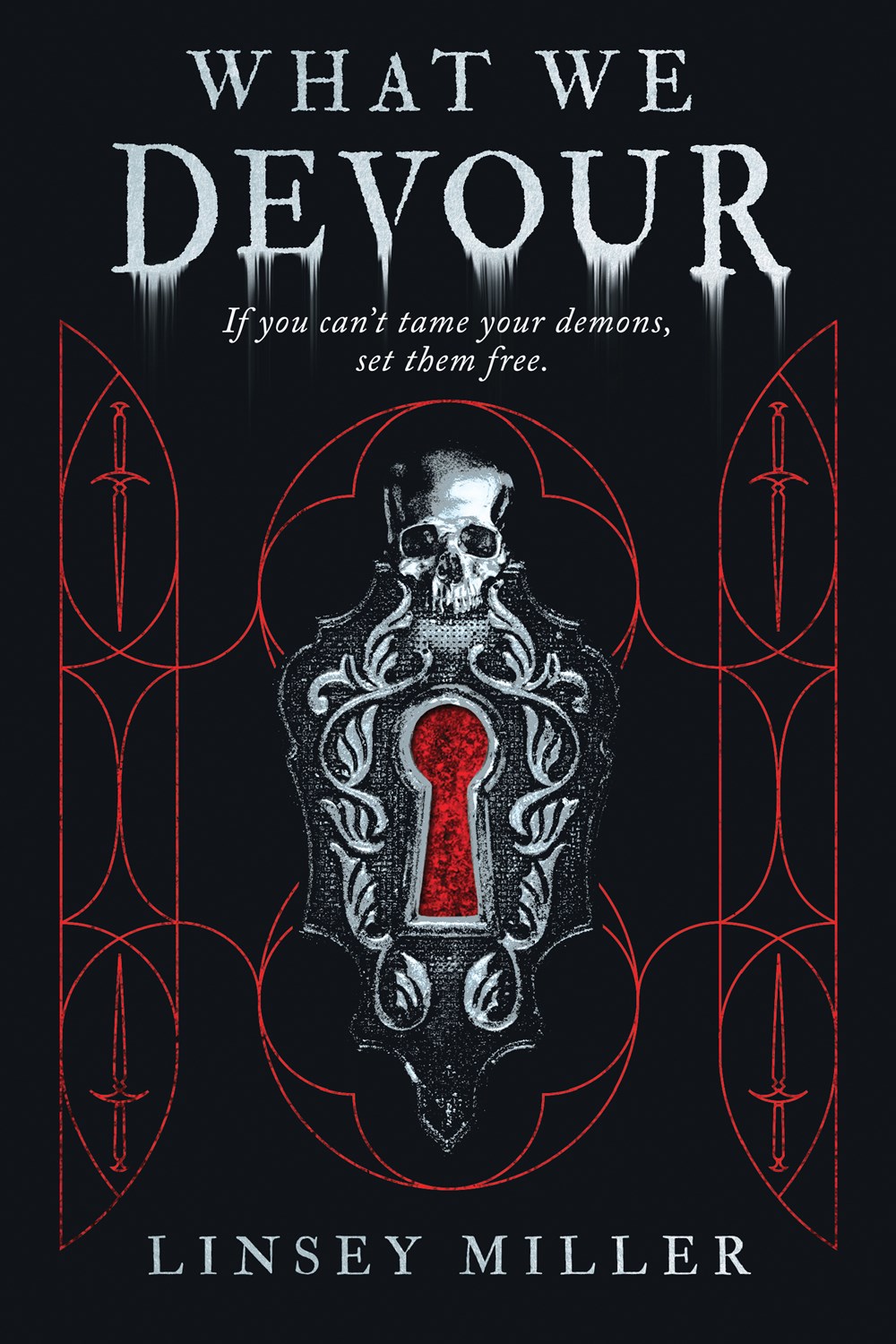 From the author of Mask of Shadows comes a dark and intricate story of a girl who must tether herself to a violent ruler to save her crumbling world.

Lorena Adler has a secret—she holds the power of the banished gods, the Noble and the Vile, inside her. She has spent her entire life hiding from the world and her past. She's content to spend her days as an undertaker in a small town, marry her best friend, Julian, and live an unfulfilling life so long as no one uncovers her true nature.

But when the notoriously bloodthirsty and equally Vile crown prince comes to arrest Julian's father, he immediately recognizes Lorena for what she is. So she makes a deal—a fair trial for her betrothed's father in exchange for her service to the crown.

The prince is desperate for her help. He's spent years trying to repair the weakening Door that holds back the Vile…and he's losing the battle. As Lorena learns more about the Door and the horrifying price it takes to keep it closed, she'll have to embrace both parts of herself to survive.
This book is set in a world where some people are connected to the banished gods, the Noble and the Vile. They gain dangerous power, but it always comes at a price. Lorena Adler is connected to both, an incredibly rare power that she is forced to hide. When her fiance's father is arrested, the crown prince recognises her for what she is, and she trades her service in exchange for a fair trial. The prince is desperate for her help, as the door holding back the demonic Vile is weakening, threatening their entire world.
The magic system in this book is amazing. I'm always a fan of a strict magic system, because knowing there are rules, and seeing how the character's work around them is always so much fun. I especially love magic systems where magic has a cost. And, oh boy, does it have a cost here. The Noble and the Vile have different types of magic: one can destroy, the other create, but they both require sacrifice. One of the more heartbreaking sacrifices is how Lorena feeds memories of her mother to the creatures until she's just a shrouded figure of her past.
This type of magic feeds into the setting so well, creating a bleak, savage world where there are immense class differences. Lorena was working class; her mother sustained injuries from her job in the factories that eventually killed her. The factory owners never face consequences for the poor working conditions, for the death on their hands. There's a stark contrast between her and the prince, who was misunderstood and feared but never struggled with his wealth. Lorena has to ask herself, if the rich only care about themselves, if they sacrifice everyone around them, are they worth saving?
Lorena was such an interesting main character. I always love reading about characters that are super competent and tricky. She's manipulative, occasionally bloodthirsty, and totally amazing. As events unfold, she's drawn deeper and deeper into darkness. I feel like people who love corruption arcs would love this book. Though to be honest, her plight against the cruel rich of the city is one you can get behind.
Overall, this book was so interesting and a must-read for anyone who loves dark fantasy. It has a slightly older voice than most Young Adult, so it'd have crossover appeal to people who prefer Adult. Read this if you love morally grey women and eating the rich.
CW: death, blood, gore, self harm (for magic), acephobia (challenged)
(Thanks to Netgalley and SourceBooks for providing me with an advanced copy in exchange for an honest review)
Linsey Miller grew up in Arkansas and has previously been a crime lab intern, neuroscience (undergrad) lab assistant, and pharmacy technician. She is represented by Rachel Brooks of Bookends Literary and holds an MFA in Creative Writing (Fiction) from Wichita State University. She can currently be found writing about science and magic anywhere there is coffee.

Her debut duology, containing Mask of Shadows and Ruin of Stars, was about a genderfluid thief who fought their way through auditions to be the next royal assassin. Her most recent books are Belle Révolte, a French-inspired fantasy about two girls, one revolt, and unimaginable magic, and The Game, a YA thriller about a game of assassins that turns deadly in small-town Arkansas.

Her next book, What We Devour, is a young adult dark fantasy about dangerous magic, a curious boy, and the terrible choices we are sometimes forced to make and comes out 6 July 2021.
The Bone Way comes out on the 26th of June 2021 so there's never been a better time to grab a copy!
If you want to remember to check out this book you should Add to Goodreads or Storygraph!
You can order the book from major retail sites such as Blackwell's and Waterstones!
I'd recommend checking out your local indie bookshop! If you're in the UK you can use Hive.co.uk!